Ten-plus years ago, all you had to do for your local business to outrank your competitors was to have more business citations online than they had.
Today, business citations do impact local rankings. You absolutely have to have business citations to rank in Google locally. However, local business citations are only about 7% of Google's algorithm, per the above image from BrightLocal.com. So, there are a lot of other factors that affect how well you rank in Google Maps.
In this article, we will dive into this topic a bit deeper and talk about what local business citations do and don't do when it comes to ranking in local searches. You might also be interested in reading my two related articles: "Is Having A Lot Of Business Citations Good?" and "What Are The Most Important Business Citations To Have?".
What Local Business Citations Don't Do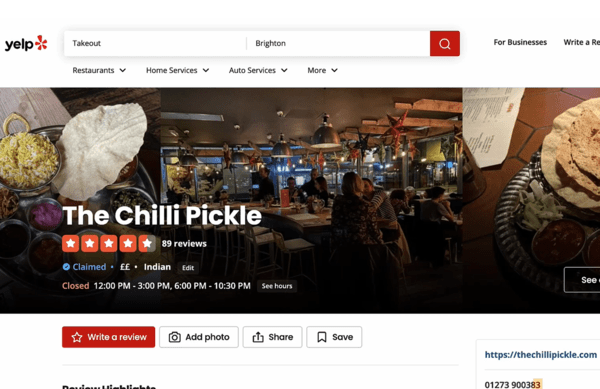 More local business citations than your competitors, such as this Yelp listing in the above image, are insufficient to ensure you will outrank them.
Since it is no longer about quantity but more about the quality of the citation, the sites you have citations on have a much more significant impact than the number of sites you have citations on.
Local business citations also won't increase your website's authoritativeness. They will definitely help, especially the ones that offer links to your website, but you need links from locally relevant and industry-relevant websites to really outrank your competitors, especially relevant links.
How Local Business Citations Benefit You
First, such as this YP image, you must have some business citations because the search engines use them to verify your business name, address, and phone number (NAP) information on your website and that your Google Business Profile (GBP) is correct. Google won't list you if it can't verify that information on a few other websites that it trusts first.
Second, Google looks at patterns. When Google looks around the internet, it looks for what most local businesses in your area and industry do online. If most have business citations on certain websites, it looks to see if you do. Make sure you are listed in the normal places others in your industry are listed ads to your legitimacy in the eyes of most search engines.
And third, many structured citations (business directories and social media profiles) also link to your website. This can arguably be the most important benefit of all because this passes Domain Authority (DA) to your website, making your website more authoritative in Google's eyes. Backlinks help your rankings in the Google Maps 3 pack, especially in the regular organic section.
Final Thoughts
So the bottom line is there are some definite ranking benefits, especially depending on the quality and relevancy of the websites you have your business citations on. Business citations do not have the power they once had by themselves to improve your ranking. But they are an essential part of the local Google algorithm.
So, thank you for reading all the way to the end of this article! I hope that you learned something and got some benefit out of it. If you did, please email this article to business owners who would benefit from this information and share it on your social media.