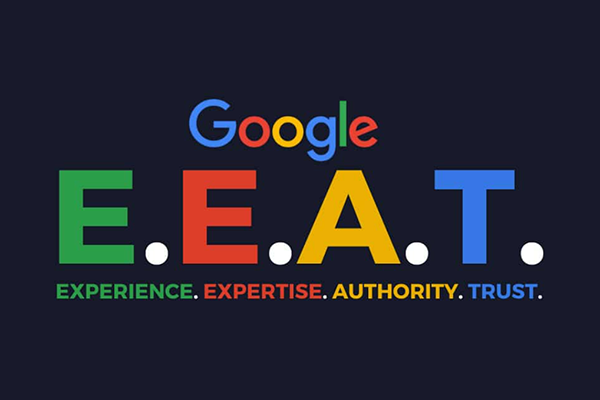 E.E.A.T. is something we have heard a lot about in SEO circles recently. But what exactly is it, and what do the various letters in the acronym stand for?
E.E.A.T. is an acronym that stands for Experience, Expertise, Authority, and Trust. It came from the Search Quality Rater Guidelines (SQRG) (here's an overview), a manual created for Google's human "Search Quality Raters" team. E.E.A.T. is not directly a Google ranking factor as of 2023 but is a good indicator of where Google's algorithm updates will be heading.
In this article, I will go through each of the attributes Google is looking for in E.E.A.T. and discuss how to demonstrate each. See also my articles "How To Optimize For E.E.A.T!" and "Local SEO Topical Authority Tips!".
What Does Google Mean By "Trust"?
Google's SQRG guidelines talk about trust; it states, "Trust is the most important member of the E-E-A-T family because untrustworthy pages have low E-E-A-T no matter how Experienced, Expert, or Authoritative they may seem."
When considering trust, Google says it is trying to determine if the page is "accurate, honest, safe, and reliable." For example, if it is an online store, part of "safe" means they use "secure online payment systems and have reliable customer service."
If the website shows products or other reviews, are they real customers giving honest reviews, or are they cherry-picked or fake-designed just to deceive the customer? If it is in a YMYL (Your Money Your Life) topic, then Google says it "must be accurate to prevent harm to people and society."
Google will not consider the website trustworthy if it appears to have a "conflict of interest," for example, product reviews by someone paid to promote the product.
When looking at a website to determine trustworthiness, Google will first look at "what the website or content creators say about themselves". It will look at the "About Us" page, the author or profile page, etc., to see if it feels that information denotes trust.
Then Google will look at "what others say about the website or content creators." It looks at "independent reviews, references, news articles, and other sources of credible information about the website or content creators."
And finally, Google looks at what is visible on the page itself. For example, if the website is about hairstyling and on the website, it has a video showing the website creator styling someone's hair. Google is looking for personal experience stories and proof that the content creators speak from experience.
What Does Google Mean By "Authority"?
In talking about Authoritativeness, in its guidelines, Google says, "Consider the extent to which the content creator or the website is known as a go-to source for the topic. While most topics do not have one official, Authoritative website or content creator, when they do, that website or content creator is often among the most reliable and trustworthy sources."
So, in other words, Google is looking both on and off your website for information that indicates that the website and/or the creator of the website has enough experience, expertise, and trustworthiness (do you sense the overlap here?) to be able to provide "accurate, honest, safe, and reliable" information.
On the website, Google will be looking for not only a listing of credentials but also stories, videos, and other examples of the website creator doing what they are talking about.
And off the website, they will be looking for relevant authoritative websites recommending both by a link and by a mention that you know what the heck you are talking about. Between links and mentions, links are by far the most authority transferring, but both are.
What Does Google Mean By "Expertise"?
How do you find a picture to depict expertise? My selection was slim, so I went with this doctor to check out this young woman. But I digress.
About expertise, Google's guidelines say, "Consider the extent to which the content creator has the necessary knowledge or skill for the topic. Different topics require different levels and types of expertise to be trustworthy."
For example, if an article is about how to do some minor electrical work in a home, who would have more expertise, a skilled licensed electrician or the homeowner? Or, if you were for dental advice, would you rather listen to a first-year dental student or a seasoned dentist? You get the idea.
So, everything you can do on your website to highlight your expertise in your field will help Google trust your information more. Likewise, any trusted city and industry websites that recommend your website through a link are even more powerful. Get creative with this stuff. Have fun with it.
What Does Google Mean By "Experience"?
After I selected this image, I realized some people might not appreciate seeing a rabbit being processed. Sorry about that if that is you.
Google says about the experience: "Consider the extent to which the content creator has the necessary first-hand or life experience for the topic. Many types of pages are trustworthy and achieve their purpose well when created by people with a wealth of personal experience."
For example, the above image is an image of myself processing a rabbit. If I wrote an article about how to process a rabbit and I had actual pictures of each step of me doing it, or better yet, if I had a video of me processing a rabbit, it literally proves experience to Google. The reader can see me doing the thing I am teaching.
Those are the kinds of things that add credibility and that Google is looking for.
Final Thoughts
As I read through Google's SQRG guidelines, there is a lot of overlap between the different letters in the acronym. However, they are different enough to emphasize various aspects of what Google is looking for. As you read this article, I am sure you can see that.
This is an important topic because this is how you set yourself above the rest in your local industry, both in the eyes of your potential customers and the search engines.
Thank you for reading this article all the way to the end! I hope you understand this topic a little better now. If you got a benefit out of this article, please share it on your social media! That really helps us get the word out!