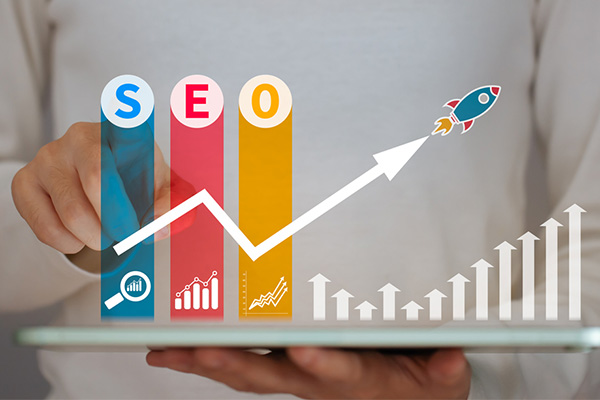 There is some confusion about "the differences between On-page and Technical SEO." The confusion is a bit silly because since On-page means On-website, Technical SEO is a part of On-page SEO.
On-page SEO is defined as things you do on your website to help optimize it to show up where you want it to in search engine searches. Technical SEO is the part of On-page SEO that has to do with the website's code, keeping it clean and performing well so that all of the pages you want to be indexed are.
In this article, first, we will clearly define the various parts of quality On-Page SEO, and then we will delve more specifically into the aspects of Technical SEO. See also my articles "The Most Important Aspects of On-Page Local SEO!" and "Can On-Page SEO Help a Site's Google Ranking?".
What are the Parts of On-Page Local SEO?
For my above image example of a local business website, I grabbed this screenshot of an SLC plumbing company's website, Beehive Plumbing. It could have been a picture of any local business website.
On-page SEO includes everything you do to your website to help ensure that the search engines will show it on top in both Google Maps and the regular organic section for the specific keyword searches you are targeting.
The SEO part of building a local business website includes optimizing the wording and interlinking of the content, the code for performance, and the signals the coding sends about the information that matters to search engines for your specific type of local business.
Technical SEO
This first part of On-page SEO has to do with keeping the code clean so that the website's speed and functions perform well, as well as ensuring that the pages you want to be indexed will be easily found and indexed by the search engines.
If you use a simple Content Management System (CMS) such as WordPress with a well-performing theme and plugins (as few plugins as possible), most of this will be done for you. We will get into more specifics about Technical SEO below. Click here to jump down there to read that now!
Website Informational Coding
In this part, by "coding," we don't mean creating your website code from scratch. We are talking about using simple tools to create snippets of code that you copy and paste to where you need it. Most often, this involves filling out a form. It is much simpler than I might be making it sound.
In Local On-page SEO, we are trying to give the search engines the information they need, such as schema markup, to realize that your local business is the most expert in your local area (city). To do this, we do things like listing your business name, address, and phone number (NAP) information both on the website and in the code of images and the website itself, usually on the location page.
We also embed a Google map to the Google business listing along with informational coding called "Schema Markup" embedded in the Google map code on the website's location page.
Optimizing Written Content
In the above image, I simply show a subheading and a paragraph of text. However, optimizing the written content involves the URL of the page, the title tag, the H1 title, the subheadings, and the paragraph page.
Where and how you place the keywords you are targeting in each of these places makes a huge difference in whether or not your website will show up in the searches when those keywords are searched.
And it is done differently depending on your industry and city's competitiveness. In less competitive cities or industries, you might successfully target them only on a single page or several pages. However, in highly competitive situations, you might need a whole page to target each keyword or phrase you want to show up for.
Website Content Interlinking
How you interlink the pages and posts on your website can accomplish several things. First, it can influence readers to read more pages of your website. Second, it can determine which page shows up in the searches for a given search term.
Third, it can group related keywords together and help you show up for the targeted keywords in more competitive industries or markets. Finally, since each page or post is its own mini website having its own unique URL, interlinking properly can dramatically reduce the number of links from external sources you need to achieve the same Domain Authority and Trust in the eyes of the search engines.
The Aspects of Technical SEO
When you have a local business website, for it to rank well, search engines like Google need to be able to find, read, and understand your content. Your website's page speed, mobile friendliness, and functionality must also be up to par. If not, search engines won't show your content and may not even index it.
No Index Meta Tag
By adding this piece of code <meta name+"robots" content="noindex"> to your page or post, you are telling the search engines not to add this page or post to their index. That can be a bad thing. Only indexed pages or posts can show up in search engine searches. So you don't ever want to have this piece of code added to the content you want to rank well.
CMSs, such as the above image shown in WordPress, often have a checkbox that will add this piece of code to every page of your website. And it often defaults to being checked. So, you want to ensure that yours is not checked if you are using a CMS with that feature.
You may have certain pages on your website that you don't want to be indexed, such as category or author pages. Just make sure all pages you want indexed can be.
robots.txt
Robot.txt is a file that most websites live on your root domain. And you should be able to check and access it by going to yourdomain.com/robots.txt.
The file contains a set of rules for crawlers that tells them where they can or cannot go on your website. This is important because for your website to show up well in the Google Maps 3 pack and the regular organic search, you need to have the correct pages indexed and the correct ones not indexed.
Fortunately, if you use a CMS like WordPress, it automatically does most of this. But here is a short video that explains robots.txt in more detail so that you understand what you need to know about it.
Sitemaps
Sitemaps are almost always XML files and list the important files on your website. These can be pages, posts, videos, images, and other important files.
Sitemaps help search engines like Google more efficiently crawl your website. And it helps them find your content better and not miss things you want them to see.
Sitemaps can be difficult to create if you don't know HTML code. But if you are using a CMS like WordPress, there are themes and plugins that will create and maintain this for you. To help search engines find your sitemaps, you can use the sitemap directive in your robots.txt file and submit your sitemap on Google Search Console. Here is a short video that explains Sitemaps.
301 Redirects
If you ever update a page and stick it on a new URL, your old URL becomes a 404 error that search engines do not like. It shows sloppy website maintenance and makes the search engine think you have duplicate content or that your website is being left unattended. This can hurt your search engine rankings.
Anytime you delete a page or change a page's URL, you want to do a 301 redirect to either the new page or, in the case of deleting a page, to the homepage.
A 301 redirect, also called a permanent redirect, transfers all of the traffic, Domain Authority, and trust coming from links to the old page to the new page. Here is a good video that will teach you more about 301 redirects.
Final Thoughts
Doing Technical SEO to me is like taking your car to the mechanic to have all of the fluid systems flushed, filters changed, and the rest of the vehicle checked for wear or worn parts. Technical SEO is getting and keeping your website in tip-top shape so the rest of the SEO you did on and off your website is not inhibited by a poor-performing website.
Thank you for reading this article all the way to the end. I hope that you learned something and got some benefit from this article. If you did, please share it on your social media! Thank you so much!