For a local business, Off-page SEO is all about helping the search engines find the verifications and recommendations from other websites online that your business is the best option to show to local searchers in need of your products or services.
Off-page SEO is not only worth it but critical for local businesses who want to show up in the Google Maps 3 pack for their key products or services, especially if they are in a competitive city or industry.
If you know what the most important factors are in Off-page Local SEO, and you do them correctly, you can be very effective at outranking your competitors both in Google Maps and in the regular organic section. In this article, we will talk about Off-Page SEO's real benefits to local businesses.
Before I get into the meat of this article, I have a quick suggestion. If you found this article because you are trying to learn Local Off-page SEO, I recommend you read my article "What Is Off-page Local SEO?". My article "Local Business Off-page SEO Tips" might also be important to read.
What Are The Benefits Of Off-Page SEO?
Off-page SEO provides three main benefits to local businesses. First, it builds online NAP consistency so search engines can trust the data. Second, it builds an authoritative digital footprint, which adds to its online credibility. Third, it sets the local business apart as a local authority as an expert in their field.
The search engines look for all these things when deciding who to rank first in the local Google Maps 3 pack and in the regular organic section.
Builds Online NAP Consistency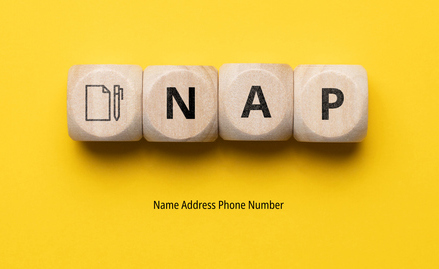 When you build a website, the search engines don't necessarily believe you are who you say you are, are located where you claim to be, or that you do what you say you do. And when they find your business's NAP information written differently on different websites online, search engines don't trust the business.
In Local Off-Page SEO, one of the first things you do is build business directory citations in as many of the business directory and social media sites that the search engines trust, making sure that everywhere the business's NAP information is listed, it is listed as consistently as possible. The more consistently this information is listed in all places it is listed across the web, the more Google trusts the data. Search engines don't rank information they don't trust.
Builds An Authoritative Digital Foot Print
In Local Off-Page SEO, another thing that you do when you create all your business directory and social media citations is fill out your profile pages in each one as completely as you can, using industry and location keyword-rich content, and link to your Google Business Profile and to your business website.
You also add as many optimized and geotagged images as you can to your business directory and social business profiles. Some websites will wipe this data off when you upload the images, but others won't. But either way, the websites will read the data. And this will legitimize and add credibility to your local business. Focusing on the most high-quality sites will create an authoritative baseline digital footprint that search engines look for.
Sets Business Apart As An Expert In Your Field
A major part of Off-Page Local SEO is aquiring high-authority backlinks. Contextual links from websites with high authority in your industry or city and state move the needle in Google Maps.
Search engines view these as vouching for or recommending your website as the best expert in your industry in your area. The more of these a local business website is able to get, the more it is seen as the expert in your field locally.
You can make a lot of mistakes in the other areas of Local SEO, but if you have accumulated more of these types of backlinks than your competitors, you make it extremely difficult for any of them to outrank you on Google.
Is Off-Page SEO Worth What It Costs For A Local Business?
Small local businesses don't have the budget of large corporations. Depending on your success as a local business, the cost of a real Local SEO person can sound like a lot.
Real Local SEO services cost thousands of dollars a month in most cases. They are significantly more expensive than many turn-and-burn SEO companies with no idea what they are doing.
So the big question is, are they worth the price? I have literally seen businesses going from almost zero phones ringing in a day to the phone ringing all day. Or from empty businesses badly needing customers to be businesses full of customers with lines out the door.
I know this can sound dramatic. And there are other forms of advertising businesses can do. The location itself can bring in customers. But in most businesses, I have worked around, when they finally hired someone who really knew what they were doing, the increase in business was significant.
A Personal Local SEO Example
In 2015, I acquired a new client, a local business with 3 locations in Alabama. I was fairly new to Local SEO at the time, so I only charged him $1,000 a month after building his website, where I would now charge him double that amount.
Anyway, within about 4-5 months, I got him showing up in the top 3 in the Google Map pack and on the first page in the regular organic section for all his keywords in all 3 locations. At first, he was very happy. He noticed a dramatic increase in business.
But about a year later, he started calling me about once a month, complaining that he did not think my efforts were doing him any good. He complained that he was getting a lot of poor-quality calls that never hired him but wasted his time.
When he first became my client, I had intended to put a call tracking number on his website so that all the calls that came from the website I built for him were tracked and recorded. But he didn't like that idea and refused.
After three months or so of him calling me and complaining about all the garbage calls he was getting, I finally convinced him to let me put a call tracking number on his site so that he could tell which calls were coming from my efforts and which were coming from his other advertising.
His main other advertising that I didn't handle for him was he was spending $3,000 per month on Google pay-per-click ads. I convinced him to have them put a call tracking number in his Google ads and to let me put one on the site I created for him.
Then, after one month of both of us having call tracking numbers, my client went through all the calls from both call tracking numbers and compared them. This took him roughly a week. He called me back and said, "David, I just fired my Google pay-per-click ads guy."
He said he was getting twice as many calls going through my call tracking number than he was from the pay-per-click guy. And he said the calls he was getting through me were mostly paying customers. Almost all the junk calls he was getting came from the $3,000 a month spent on pay-per-click ads. He has been a very happy, loyal client ever since.
Final Thoughts
I have learned from doing Local SEO over the last decade-plus that it is amazing how many more new customers and calls a business gets from being in the Google Maps 3-pack over not being there. Night and day.
After that, the next most important spot is to be as close to the Google 3 pack as possible below it in the normal organic section. The normal organic section can be difficult to rank near the three-pack because Google likes to place local business directories like Yelp there. However, I do sometimes get my clients to outrank the local directories. Not always, but it is possible sometimes.